Instrument Build Orders Currently Closed
For the moment, I am not taking orders for any new builds. I don't have the bandwidth to cover all of the work I currently have on so have made the call to close orders for new guitars. Sorry about this but I felt this was something that I had to do.
If you're definitely interested in buying a Haze instrument, you can enter your email below and I'll contact you regarding an order when there is availability again.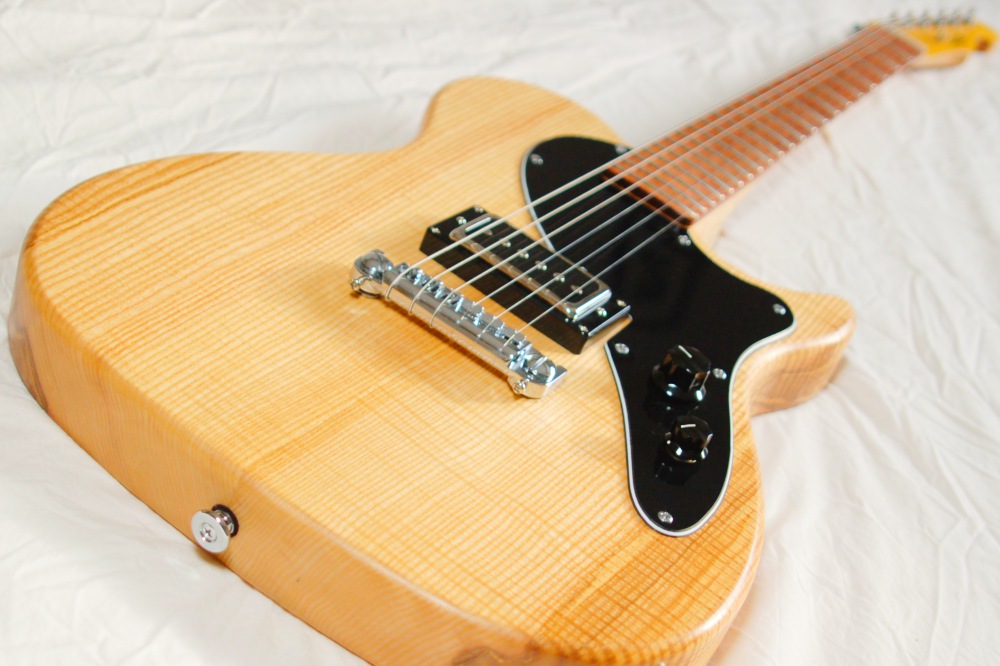 The Haze Blue Collar is a no-nonsense guitar in the tradition of simple, one-pickup, slab-bodied axes. It's made to play and play hard.
The Blue Collar: It's called that for a reason. The Blue Collar is designed to rock in the most workmanlike manner you can imagine This guitar is not about lavish and sumptuous, this guitar is about getting on stage and playing.
Stripped back brilliance.
The Haze Blue Collar gets you to the music with the minimum of fuss. One pickup. But it's a doozy – well, a Duesenberg to be exact. The Duesenberg Domino is a P-90 style pickup in a humbucker housing and it looks and sounds amazing. Powerful and raw with that edgy growl you'd expect.
Unadorned, this guitar may be but that doesn't mean unattractive. The Blue Collar has a handsomely figured, solid (damn solid), ash body married to a bolt-on, maple neck with a rosewood fingerboard. Neck and body are finished in a boutique, oil and wax finish which not only looks great, but it feels amazing to play on.
A wraparound bridge couples strings and body incredibly well and contributes to the the unique tone and sustain of the Blue Collar. The guitar has a genuine bone nut and is set-up with the care and attention that a production-line instrument can't receive. And, as standard, the Blue Collar comes with the Haze Chunky Asym neck—plenty of tone and a feel that's second to none.
It plays great and it looks great but it's the sound—rock, blues, punk and garage are all catered for here. Thick and meaty P-90 tones with plenty of muscle but the longer scale-length (25.5″) and ash body help maintain focus and a strong top-end. It'll chime, it'll roar, it'll take the heads off the front row. Make no mistake: the Blue Collar is built to brawl.
Specification as standard
2-piece solid ash body
Maple neck (bolt-on)
Pau Ferro fingerboard (12" radius) with 21 jumbo frets
25.5" scale-length
Bone nut
Kluson tuners
Intonable wraparound tailpiece/bridge
B/W/B pickguard
Side mounted output-jack
Volume and tone control
Duesenberg Domino P-90 style pickup
Finish: Oil and wax finish on body and neck
Joe Bonamassa and his Blue Collar
The Haze Blue Collar is the model that Gerry Hayes made for Joe Bonamassa.
Joe's got a truckload of plush, beautiful, incredibly expensive guitars so it was great to see him play an upstart like the Blue Collar. Read more about Joe Bonamassa and Haze Guitars.